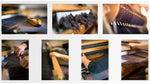 We have teamed up with the Buro to bring an amazing new design concept.
Each R80 frame is hand crafted in solid wood. Every fibre in the covers is woven by hand. Every aspect of the design is modular and can be scaled in size to fit any environment. The Chaise is held to the main frame with ultra strong magnets which means it can be swapped around to suit any room layout, or even used as a seperate seat. 
Add another chaise to the R80 and it becomes a double bed. It's modular on a new level.
For more info visit http://the-buro.com/projects/BuroIndustries.html